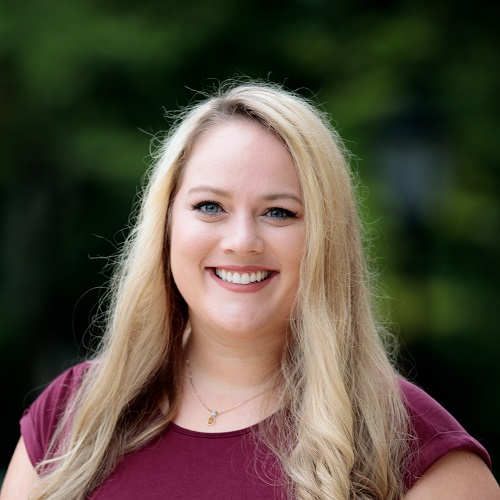 Magan Borden
Regional Recruiter
Meet Your Recruiter
Originally from Tuscumbia, Alabama, Magan earned her bachelor's degree in Health Sciences from the University of South Alabama. She is now currently enrolled at UA through Bama by Distance to achieve her master's degree in Educational Psychology. For the past few years Magan and her family has called Houston, TX home and has enjoyed embracing the food, culture, and professional athletic events. As a first-generation college student herself, she has a passion to assist students through the college process and looks forward to sharing opportunities available The University of Alabama has to offer. In her spare time, Magan loves spending time her husband, little boy, and two fur babies.
Magan Borden covers the following territories. If you would like to schedule a campus visit, you can find upcoming tours and events at https://adm.ua.edu/portal/tours.
In Person Events
Meet your recruiter in person at one of the following events.
| Title | State | City | Date | Time |
| --- | --- | --- | --- | --- |
| Stratford High School | TX | Houston | Fri, Jan 21 2022 | 11:25 AM |
| Cypress Woods High School | TX | Cypress | Mon, Jan 24 2022 | 06:00 PM |
| Cypress Ranch High School | TX | Cypress | Wed, Jan 26 2022 | 10:13 AM |
| Providence Classical School | TX | Spring | Thu, Feb 03 2022 | 11:50 AM |
| Montgomery and Lake Creek High School College and Career Fair | TX | Montgomery | Thu, Feb 03 2022 | 06:00 PM |
| Cy-Fair High School | TX | Cypress | Mon, Feb 07 2022 | 06:30 PM |
| Dulles High School | TX | Sugar Land | Wed, Feb 09 2022 | 11:00 AM |
| Ridge Point High School | TX | Missouri City | Mon, Feb 14 2022 | 11:00 AM |
| William P Clements High School | TX | Sugar Land | Wed, Feb 16 2022 | 11:10 AM |
| Elkins High School | TX | Missouri City | Thu, Feb 17 2022 | 10:45 AM |
| Kingwood High School College Night | TX | Kingwood | Tue, Feb 22 2022 | 06:00 PM |
| Tomball Memorial High School | TX | Tomball | Wed, Feb 23 2022 | 11:00 AM |
| Tomball High School | TX | Tomball | Fri, Feb 25 2022 | 10:49 AM |
| Conroe High School | TX | Conroe | Mon, Feb 28 2022 | 10:45 AM |
| Grand Oaks High School | TX | Spring | Tue, Mar 01 2022 | 11:00 AM |
| Woodlands College Park High School | TX | The Woodlands | Wed, Mar 02 2022 | 08:00 AM |
| Caney Creek High School | TX | Conroe | Thu, Mar 03 2022 | 10:35 AM |
| Oak Ridge High School | TX | Conroe | Fri, Mar 04 2022 | 10:45 AM |
| Woodlands High School | TX | The Woodlands | Mon, Mar 07 2022 | 08:00 AM |
| St Agnes Academy | TX | Houston | Thu, Mar 10 2022 | 09:00 AM |
| Katy High School | TX | Katy | Tue, Mar 22 2022 | 09:00 AM |
| Collaboration Event - Cinco Ranch HS, Seven Lakes HS, & Tompkins | TX | Katy | Thu, Mar 24 2022 | 06:00 PM |
| James E Taylor High School | TX | Katy | Mon, Mar 28 2022 | 06:30 PM |
| Obra D Tompkins High School | TX | Katy | Tue, Mar 29 2022 | 10:25 AM |
| Kingwood Park High School | TX | Kingwood | Mon, Apr 11 2022 | 12:00 PM |
| Atascocita High School | TX | Humble | Tue, Apr 12 2022 | 11:00 AM |